Page 3 - Select Hotels & Resorts
P. 3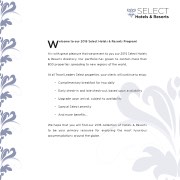 Welcome to our 2015 Select Hotels & Resorts Program!
It is with great pleasure that we present to you our 2015 Select Hotels & Resorts directory. Our portfolio has grown to contain more than 800 properties spreading to new regions of the world.
At all Travel Leaders Select properties, your clients will continue to enjoy:
• Complimentary breakfast for two daily
• Early check-in and late check-out, based upon availability
• Upgrade upon arrival, subject to availability
• Special Select amenity
• And more benefits...
We hope that you will find our 2015 collection of Hotels & Resorts to be your primary resource for exploring the most luxurious accommodations around the globe.